Wow, yummy mango ice cream!
E-BON
E-BON
2017-06-16 10:40:01
  Of course, the hot summer must be accompanied by ice cream! Teach you to make a delicious and simple ice cream at home and share it with your family.

The steps for making mango ice cream are as follows:
1. eggs separated from egg whites and yolks. Egg yolk only.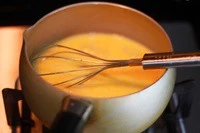 2., 3 egg yolks, 130g, sugar, milk, all into the small milk pot, and stir evenly.
3., open small fire heating, heating at the same time, stirring, and then there is a boiling trend, immediately from the fire
4., after the fire, immediately pour cold cream, stir well, let it cool down immediately.
5. add salt and vanilla extract. Continue mixing and let cool.
6. mango peeled, pitted and weighed.
7., mango meat into the food processor, stir into mango puree. 
8. add the remaining 45g sugar and lemon juice to the mango puree and continue using the processor for a while.
9. pour the mango puree in a large bowl. Cover with plastic wrap and refrigerate for an hour.
10. After an hour, the liquid in the fifth step is thoroughly cooled, and the frozen mango puree is poured into the milk pot with egg custard. Stir well with the egg white.
11. whisk with an electric whisk, and keep the two large boxes in 2 minutes. Can also be divided into several sets.
12. installed, put into the refrigerator freezer.
13. freeze until it begins to freeze for about 30--40 minutes. Take it out and whisk it for a while before putting it in the fridge.
14. beat every half hour. Stir more than 4 times at least.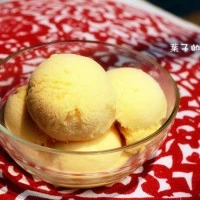 15., when eating in the refrigerator freezer, first put 10--15 minutes after eating, taste better!
  E-BON, Stainless Steel Ice Cream Spoon supplier china, can provide you with reliable quality tools for making ice cream.

Stainless Steel Copper Plated Bar Strainer

, oem ice cube supplier.