How to maintain stainless steel kitchen utensils?
Innotech
Innolite
2018-04-23 13:51:56
Stainless steel kitchen equipment(Kitchenware Supplier china) cleaning and maintenance is actually very simple, as long as the usual cooking three meals, clean the kitchen, or to do a thorough maintenance of the kitchen regularly or ask the kitchen company to do the security service for the kitchen at home, not only can always keep the kitchen clean If you are new, you can also remove the trouble of year-end cleanup. The cleaning and maintenance of kitchen equipment has always been the most difficult part of the chef's brains. Oil, rust, etc. are all dirt that is difficult to support. The following is a brief introduction to the principle of cleaning and maintenance of various equipment in the kitchen.

Basically, stainless steel kitchen equipment(Stainless Steel Double Wall Thin Waist Ice Bucket) itself has basic moisture management, but it is still not directly or for a long time flush against the cabinet, so as to avoid damage to the sheet due to moisture, so the surface of the cabinet stained with water, it should immediately dry Wipe dry. On weekdays, wipe with a slightly damp cloth. If it is difficult to wipe, use a neutral detergent and a light brush. Regular maintenance and disinfection can be wiped with a 1:1 dilution of bleach and water. Pots and pans and other objects should be wiped as far as possible and then put into the cabinet. At the same time, sharp objects should not be scratched directly on the surface. Do not use steel brush to scrub. Switch door panels should not be too hard or exceed the opening angle (110 degrees), hinges and other metal parts, to avoid long-term accumulation of water stains.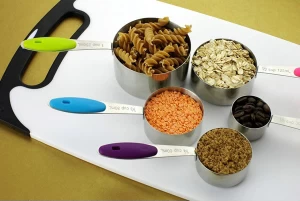 The importance of cleaning and maintenance of countertops is that the kitchen equipment(OEM Stainless Steel Measuring Spoon) is generally clean with a damp cloth. If spots can be washed with pancreatic water and neutral detergents, do not use chemical cleaners. When you encounter dirt that is not good enough, you may wish to use If the pancreatic water is a matte tabletop, you can use the detergent powder and 3M vegetable melon cloth (yellow) to gently wipe in a circular manner. The same method can be applied to the burning of cigarettes. In addition, special attention should also be paid to not using rough chemicals such as dye stripping agent, rosin oil, acetone, etc., directly contacting the tabletop, or directly placing the hot pot kitchen equipment on the countertop. These actions will damage the surface of the countertop. Place a thermal pad on the table to avoid this situation. Although the countertops can be easily repaired, there are still some issues that should be paid attention to in operation. For example, cutting boards should be prepared for chopping, and food should not be cut directly on the countertops. Finally, all kinds of damage should be prevented so that the kitchen utensils can be kept as new.