Wow, a lot of good bottle openers!
E-BON
E-BON
2017-06-20 11:06:26
  For a good Wine, the progress of science and technology seems to have no need to let you worried how to open it, because you can choose the opener of every hue, this paper is to introduce several common Wine beginners bottle opener, as well as their usage.

  T is one of the most simple type bottle opener opener, consisting of a handle and spiral drill, its usage is very simple, but it is laborious, and often put the cork off or crumble, causing pollution to the Wine.
  The utility model relates to a double arm lever type bottle opener which is composed of two lifting arms and a spiral drill bit. As the bit drills into the cork, its arms rise up too. After lifting to the end, it just needs to press its arms and the stopper is pulled out.
  The waiter type bottle opener, commonly known as "the friend of the waiter", is a common tool used by most sommelier. It is usually made of wine, a spiral drill bit and a plug holder. The method is also easy to learn. After the auger bit is drilled into the wine stopper, the stopper bracket is placed at the edge of the bottleneck, and the wine stopper is pulled out step by step.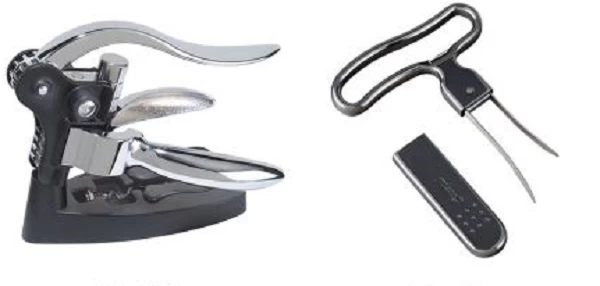 The rabbit ear shaped bottle opener is a quick bottle opener. After the rabbit ear handle clamps the bottle neck, it presses down the pressure lever rapidly, so that the spiral drill enters the bottle stopper quickly, then pulls back the pressure bar and makes the bottle stopper out of the bottle. Its operation is simple and efficient, but bulky, inconvenient to carry, and expensive.
  Ah-So bottle opener is also one of the bottle opener that is easy to learn. It consists of a handle and two pieces of iron. The operation is simple. Just insert two pieces of iron into the gap between the cork and the bottle edge, then rotate slowly from right to left, and then push out the cork. Don't worry about the use of Ah-So bottle cork will pull off or broken and stuck in the bottle.
  E-BON, Stainless Steel Wine Pourer Chrome Finish, it can offer a wide variety of bottle openers: stainless steel Wine Opener China, Stainless Steel Bottle Opener china.