The history of the development of stainless steel
E-BON
E-BON
2017-11-29 12:46:55
What is stainless steel? A high alloy steel corrosion resistance in the air or chemical corrosion, stainless steel is a beautiful surface and good corrosion resistance, without plating surface treatment, its inherent surface properties of stainless steel, used in many aspects of steel, often called stainless steel. Represents the properties of 13 steel, chromium nickel steel and high alloy steel 18-.
From metallographical analysis, stainless steel contains chromium to form a thin chromium film on the surface, which separates the oxygen from the steel and acts as an anticorrosive agent. In order to maintain the corrosion resistance inherent to the stainless steel, the steel must contain more than 12% chromium.  E-BON the most excellent stainless steel company, which provide you with
Hammered Moscow Mule Copper Mugs
.

History stainless steel
The Chinese nation is the world's first steelmaking country, our ancestors three thousand years ago had mastered some iron smelting, steelmaking, casting and forging and heat treatment technology, to 1700 years earlier than Europe, made an important contribution to world civilization and human progress.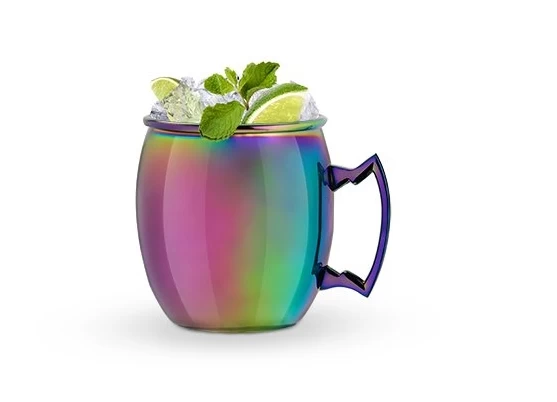 Iron and steel has become the most basic and most important material for modern industrial and agricultural production, transportation, national defense and even the people's life. At present, although a variety of new inorganic and organic synthetic materials have been greatly developed. But from the cost of production, the wide range of application performance, they are still far from the replacement of steel. Therefore, the production capacity of iron and steel is still one of the important signs to measure the national strength of a country. 
Iron and steel materials have been widely applied because iron ore deposits are centralized, and have large storage capacity. E-BON the stainless steel specialist,
china Stainless steel manufacturers
.
Mining and smelting are relatively economical. Steel and semi-finished products have strong cold and hot deformation capacity. The finished product has excellent mechanical properties (strength, plasticity and impact resistance) and processing performance (cutting, welding, cold deformation, etc.). But compared with silicic acid materials, polymer synthetic materials and some non-ferrous metals, its biggest drawback is that in the atmosphere or acid, alkali, salt and other media, it is easy to lose weight or lose completely due to corrosion.