Quality characteristics and requirements of stainless steel
E-BON
E-BON
2017-12-01 13:02:17
All products due to different purposes, the processing technology and the quality of the raw material requirements are also different.  E-BON the most excellent stainless steel company, which provide you with
Stainless Steel Jigger Bar Measuring Cup
.
(1) material:
First, DDQ (deep drawing quality) materials which are used in deep drawing (wash) use of materials, which is everyone talking about soft materials, the main feature of this material is the extension rate is high (more than 53%), low hardness (less than 170%), the internal grain grade in 7.0~8.0. Excellent deep drawability. Many of the current production of thermos bottle, pot type enterprise, its product processing ratio (BLANKING SIZE/ diameter) is generally higher than the processing, they were 3, 1.96, 2.13, 1.98. SUS304 DDQ timber is mainly used to these higher than processing products, of course, processing more than 2 of the products are generally required to go through several times to complete the drawing. If the extension of raw materials is not enough, the products will be prone to crack and pull through during the processing of deep drawing products, which will affect the qualified rate of finished products, and, of course, increase the cost of manufacturers.

Second, general material: mainly used in DDQ in addition to the use of outside material, the material is relatively low elongation (more than 45%), and the higher hardness (less than 180), the internal levels of grain size between 8.0~9.0, compared with DDQ material, its deep drawing performance is worse, it is mainly used for products without stretch can be obtained, as a kind of tableware spoon, spoon, fork, electrical appliances, steel etc.. But it has an advantage compared with the DDQ material, that is, BQ is relatively good, which is mainly due to its high hardness.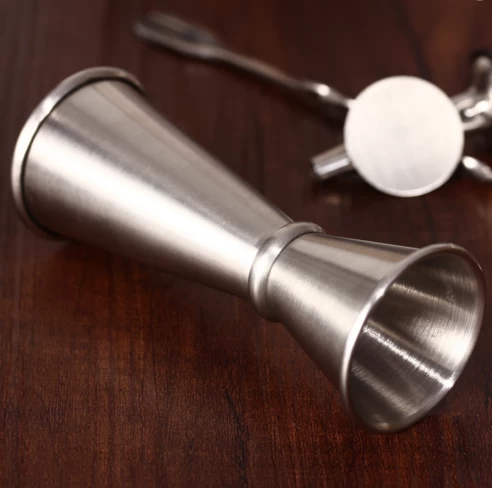 (2) surface quality:
Stainless steel sheet is a very high price material, and the customer's surface quality is also very high. But the stainless sheet in the production process inevitably there will be various defects, such as scratches, pits, creases, pollution, and its surface quality, like scratch, creases etc. these defects whether senior or junior materials are not allowed, and the pitting defects in the spoon, spoon, fork, is never allowed because, when polishing is difficult to sell it. 
According to the degree and frequency of various defects on the surface, we determine the quality level of the surface to determine the product grade. E-BON the stainless steel specialist,
cocktail shaker manufacturer china
.