Quality characteristics and requirements of stainless steel 2
E-BON
E-BON
2017-12-04 14:16:10
In general, stainless steel products, the requirements of material thickness tolerances are different, like two kinds of tableware and insulation Cup, thickness tolerances for general higher requirements for -3~5%, and a class of general requirements -5% tableware thickness tolerances, steel requirements -10%, the hotel with timber thickness tolerance requirements for -8% refrigerator, distributors of thickness tolerance the general requirements in -4%~6%. At the same time, the difference in product and export will also lead to different requirements for the tolerance of raw material thickness. 
Generally speaking, the thickness tolerance requirements of the general export customers are high, while the domestic enterprises have relatively low thickness tolerance requirements (mostly for cost considerations). Some customers even require -15%.   E-BON the most excellent stainless steel company, which provide you with
Hammered Moscow Mule Copper Mugs
.
(4)Welding:
The different requirements for the use of products are different to the welding performance. A class of tableware is generally not required for welding performance, even part of the pot enterprises. But most of the products need good welding performance, such as two kinds of tableware, heat preservation cup, steel pipe, water heater, water dispenser and so on.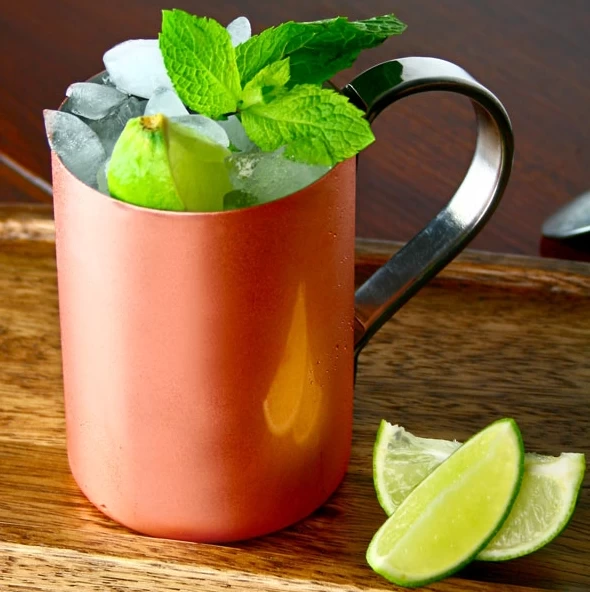 (5)Corrosion resistance:
The vast majority of stainless steel products for the good corrosion resistance, like one or two kinds of tableware, kitchenware, water heater, water dispenser, some foreign businessmen also do the corrosion resistance test of the product: NACL water solution is heated to boiling, pour the solution after a period of time, washing and drying, the weight loss is determined by the extent of corrosion (Note: product for polishing, abrasive cloth or paper containing the composition of Fe will lead to surface rust test)
(6)Polishing performance (BQ):
At present, stainless steel products are generally polished in the production process, only a few products such as water heater, drinking machine inner gallbladder, etc. do not need polishing. So this requires that the polishing performance of the raw material is very good. Factors affecting the polishing performance mainly has the following several points:
First, the surface defect of the raw material. Such as scratches, pits, pickling etc.. E-BON the stainless steel specialist,
Stainless Steel BBQ Set manufacturer china
.  
  
Second, material material problem. Hardness is too low, polishing is not easy to shine (BQ sex is not good), and the hardness is too low, when deep stretching, the surface of the surface is easy to appear, thus affecting the BQ. The BQ property with high hardness is relatively good.   

Third through deep stretched products, the surface of the region with great deformation will also produce small black spots and RIDGING, which affects the BQ.