EU announces extension of anti-dumping duty on stainless steel seamless pipes in China for 5 years
E-BON
E-BON
2018-03-14 11:35:51
  Stainless steel spot supermarket network news, the EU announced on the 6th that the anti-dumping duty on stainless steel seamless steel tubes in China extended by 5 years, continue to impose anti-dumping duties of 48.3% to 71.9% on Chinese products involved.
  The European Commission issued a public announcement on the same day to inform this decision. Stainless steel seamless pipe(
china Stainless Steel Housewares supplier
) is a kind of hollow steel which is widely used in petroleum, natural gas and other transportation pipelines. Because of its lighter weight, it is also often used to manufacture mechanical parts and engineering structures.
  The case of the EU's stainless steel seamless steel pipe in China originated in 2010. In September of that year, the European Union launched an anti-dumping investigation against Chinese products involved in the case; in December 2011, the final ruling imposed 48.3% to 71.9% of anti-dumping duties on Chinese products involved in the case.
  In December 2016, after a five-year anti-dumping tax expired, the European Union initiated an anti-dumping review investigation and announced that on the 6th, the anti-dumping duty on stainless steel seamless pipes(
china Stainless Steel BBQ Series supplier
) in China was extended for another five years.
  At the end of January this year, the European Union finally imposed anti-dumping duties on China's cast iron products. In early February, it finally imposed an anti-dumping tariff of 17.2% to 27.9% on China's corrosion-resistant steel products.
  According to EU statistics, the EU has so far implemented a total of 53 anti-dumping measures against imported steel products, 27 of which involve Chinese steel products, which account for as much as 50%.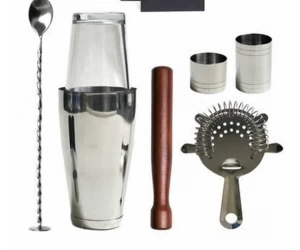 For the EU, China has repeatedly called for the EU's implementation of Article 15 of the Protocol on Accession to the World Trade Organization, the termination of the "substitute country" approach, and fair treatment of Chinese companies in anti-dumping investigations.
  At the same time, Fang emphasized that the fundamental way out for solving the iron and steel(
Stainless Steel Bar Set china
) problem is the joint action of all countries, which will enable the global economy to embark on the path of stable development as soon as possible, and reckless trade remedy measures will not help solve the problem.
  On the other hand, on the 1st of this month, U.S. President Trump stated that the United States will impose tariffs on imported steel and aluminum products, the EU publicly refuted it, emphasizing that countermeasures will be taken to firmly defend the interests of the EU, and that it will pay close attention to the market. Trends, if necessary, will be shot "safeguard" to maintain the EU market stability.