A convenient tool for family members: watermelon slicer
E-BON
E-BON
2017-05-10 20:30:17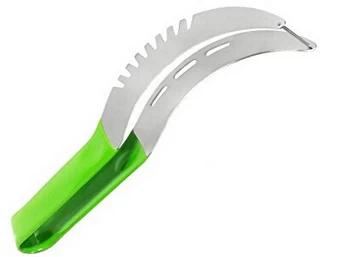 This watermelon slicer knife cutter and server combo is exactly what you need to enjoy more watermelon without all the mess and hassle. This video will show you how to hold the knife to glide through the watermelon and then flip the cutter over and use them as tongs to extract the fruit.
Once you have extracted your slices, you may serve them whole or cut them into smaller chunks for serving or for recipes, we enjoy a watermelon salad with feta cheese and fresh mint. We also like to blend the fruit for watermelon smoothies or martinis. The possibilities are endless and your prep time will be cut in half with this efficient kitchen gadget!
Are you ready to spend less time in the kitchen, and eat more servings of fruit? Plus you will save money by not being tempted to purchase the pre-cut watermelon in the grocery store that has been sitting there for days. Eat healthy. Cut safely. Enjoy more time with friends and family.
If you need, please contact us.